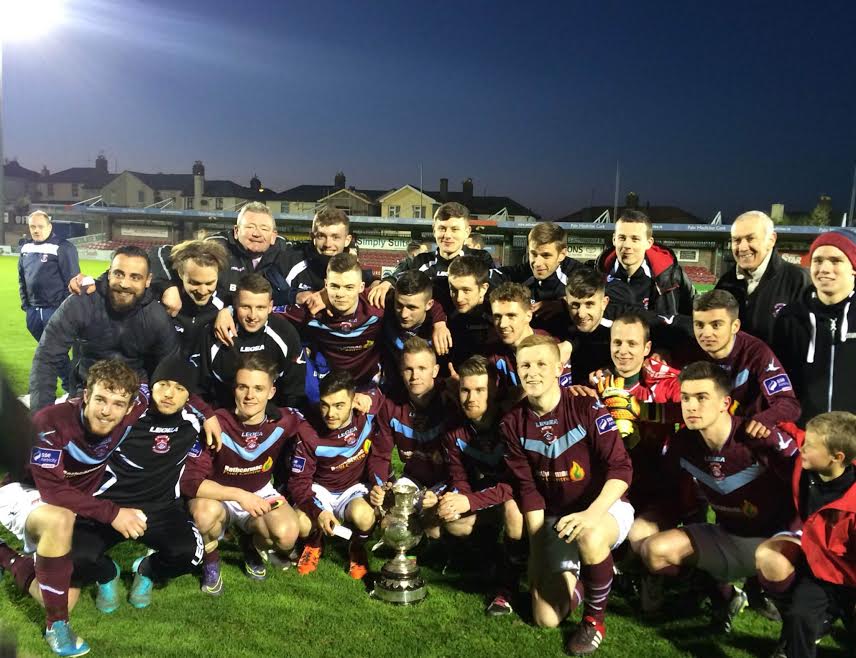 With Winter setting in, one can finally look back on what has simply been a superb year for Cobh Ramblers FC. A first Munster Senior Cup in 33 years. A first FAI Cup quarter-final in 15 years. Our highest First Division finish since 2007. Our u17's won the national Shield tournament and reached the semi-final of their national cup. Off the field, we have endeavoured to get involved in the local community through supporters' groups, fans' buses, kid's camps and inviting clubs from all over Cork to our games. We have come a long way since the club that almost ceased to exist in May 2015.
January seems a long time ago at this stage but it was on a bitter Sunday afternoon in College Corinthians that our 2016 season began. It took a penalty shootout win over the Douglas side for Cobh to progress to the Munster Cup semi-final. That game saw numerous of the off-season arrivals make their debuts. Goalkeeper Paul Hunt had arrived from Longford Town. UCC's Ian Mylod and CIT's Eoin McGreevy gave a sense of what was to come with energetic first appearances in the claret and blue. Ex-Cork City striker Rob Lehane and former Torquay and Ross County defender Cian Kingston also appeared as did recent acquisitions Evan Galvin and Jimmy Griffin.
Limerick were defeated 1-0 in the Munster Cup semi-final and the guarantee of a spot in a final was a positive boost ahead of the start of the league campaign. Little did we know at the time how rare a win over the Shannonsiders would become in 2016. Swedish sensation Markus Gustavsson grabbed the winner on a night where he announced himself to the Ramblers faithful.
We were handed a tough opening fixture list but a 1-0 victory at Shelbourne on matchday one meant that we began a season with three points for the first time since 2013. A respectable 1-1 draw against Drogheda was followed by a disappointing 6-1 defeat to Limerick. We met Limerick again four days later in the EA Sports Cup and despite two goals from Gustavsson, the Blues won out 4-2. UCD then inflicted one of just two home losses in the league before a 2-1 win at Cabinteely had the Rams back on track. We came away from Waterford with a victory by the same scoreline, O'Connor and The Swede finding the net. Two home games on the trot saw Athlone claim a 2-2 draw at St Colman's while Shels left the ground with nothing following a goal from who else but Markus. The Munster Cup final was next to come against MSL side Rockmount. Despite going down 1-0 early on at Turners Cross, second half strikes from Jonathan Creamer and Andy O'Connell secured a first Munster Cup title in 33 years, our fifth in total.
Alas, three league losses to Drogheda, Limerick and UCD on the trot reduced the euphoric positivity caused by the Cup win and it was wake-up call for a side still yet to hit top gear. We entered the FAI Cup at the second round and faced non-league Dublin outfit Cherry Orchard. On a buoyant Saturday afternoon, Eoin McGreevy and Shane O'Connor found the net in a 2-1 win. Comprehensive home wins over Waterford (4-0) and Cabinteely (2-0) saw Ramblers enter the mid-season break in style.
Another 2-0 win, this time in Athlone, brought goals for top scorer Shane O'Connor and Stephen Christopher. Shelbourne under new manager Owen Heary earned their 2-0 win as June entered July but a fantastic 2-1 comeback defeat of Drogheda United had Ramblers back in winning form. English Championship side Fulham FC provided the opposition in a mid-season friendly at Fota Island Resort as we made friends with Scott Parker, Ross McCormack and all involved with the London club. We also added to the squad in this period. Connor Ellis and Craig Donnelan arrived on loan from Cork City while Garry Comerford and Darren Murphy made welcome returns to the club. At the same time, we had to watch others leave as David Curran, James Furlong, Jimmy Griffin, David Browne, Evan Galvin, Cory Galvin and Andy O'Connell all departed the squad.
Ellis dispatched a penalty on his debut in a 1-1 home draw with UCD. A 2-2 draw at Waterford United saw Ian Mylod produce most people's celebration of the year when he clinched a late equaliser. Wins over Cabinteely (3-1) and Athlone (2-1) set Cobh up nicely for the FAI Cup third round tie with local Cork side Ringmahon Rangers. We enjoyed our two games at Turners Cross this year and Ellis, O'Connor (2) and Lehane ensured our progress to the last eight in a 4-1 win. Our only goalless tie of the season followed at home to Shelbourne before a 2-0 loss away to Drogheda. At the time the defeat in Louth appeared to end our play-off aspirations but as we all know, the season was far from over.
We were drawn away to Premier Division giants St Patrick's Athletic in our first FAI Cup quarter-final since 2001. With Pat's leading 3-0 at half-time the tie looked dead buried but a galvanised second half performance pulled the scoreline back to 3-2 and the hosts were on edge. It wasn't to be as we bowed out of the competition but nevertheless, that second half display in Inchicore was the turning point for the squad of claret and blue. The 2016 season was only just beginning.
With five games left to play, and UCD and Drogheda looking safe in the play-off spots, only the most optimistic of Ramblers supporters believed we could catch them. Six points was a lot to make up. A 1-0 victory in Belfield against The Students turned a few heads, as did Eoin McGreevy's celebration of jumping over an innocent cameraman.
Four games to go.
Maybe this play-off dream was possible. Waterford were next up and a Lehane strike followed by an Ellis double earned the Rams a 3-1 win.
Three games to go – this could happen you know.
Limerick were the visitors to the St Colman's Park this time around. Unbeaten in the league all year. The title already secured and on its way to the Markets Field. Surely no win here? Rob Lehane and Shane O'Connor had other ideas as Cobh put in the performance of the season to defeat Martin Russell's men 2-0. If anything changed people's opinions, it was that night.
Two games to go.
Cabinteely at home. Cobh Ramblers 3-0 Cabo. 18 year old Matthew Whelan firing a bullet of a header into the roof of the net on his home debut. This play-off idea didn't seem too far away.
One game left.
A trip to Athlone Town. A place with fond memories of our First Division title win in 2007. A win against the Midlanders would put Cobh into the play-offs. Any anxiousness was extinguished before the half hour mark when Rob Lehane smashed home his fourth league goal of the campaign. Whelan headed in a carbon copy of his goal from the week before and the win was secured. Drogheda United awaited in the play-offs.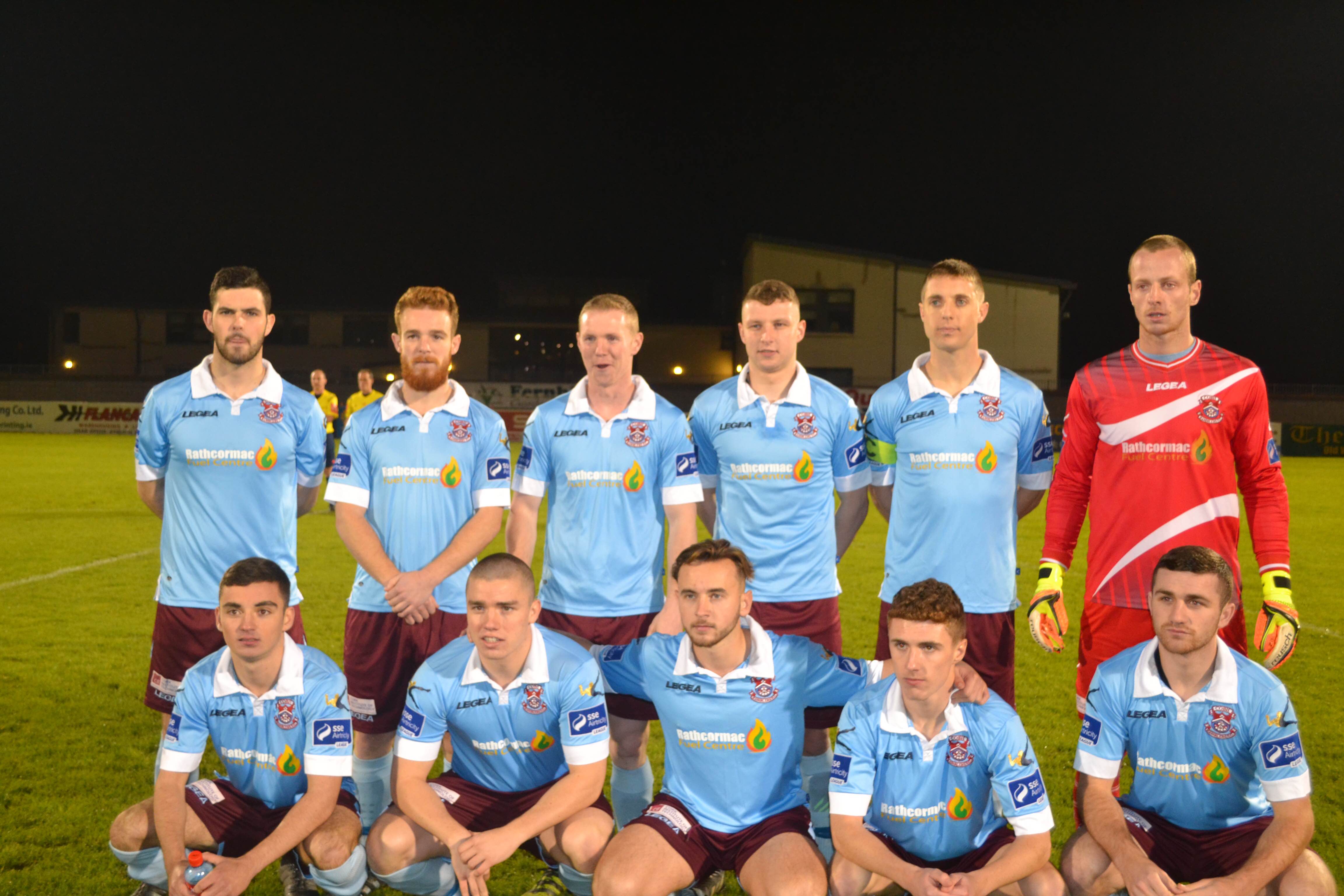 Reaching the play-offs was the aim. What happened from now on was a bonus. The first leg of the tie drew almost 2,000 individuals to St Colman's but a valiant Drogheda left with a 2-0 advantage. After eight minutes of the second leg, Cobh Ramblers were back. Connor Ellis pulled a goal back within a minute of kick-off and Shane O'Connor drew the tie level with the clock still on single figures. To the dismay of the travelling support the Louth men made it 2-1 in the second half and despite our best efforts that proved to be enough. Drogheda ultimately defeated Wexford Youths by the same aggregate scoreline of 3-2 to secure promotion, an indicator as to how close Stephen Henderson and the squad came to reaching the top tier.
This season was one of progression, one of expansion and one where we re-rooted ourselves back in our community. It was by no means easy and there is plenty of more to do but Cobh Ramblers are now firmly back on the footballing map across the county and across the country.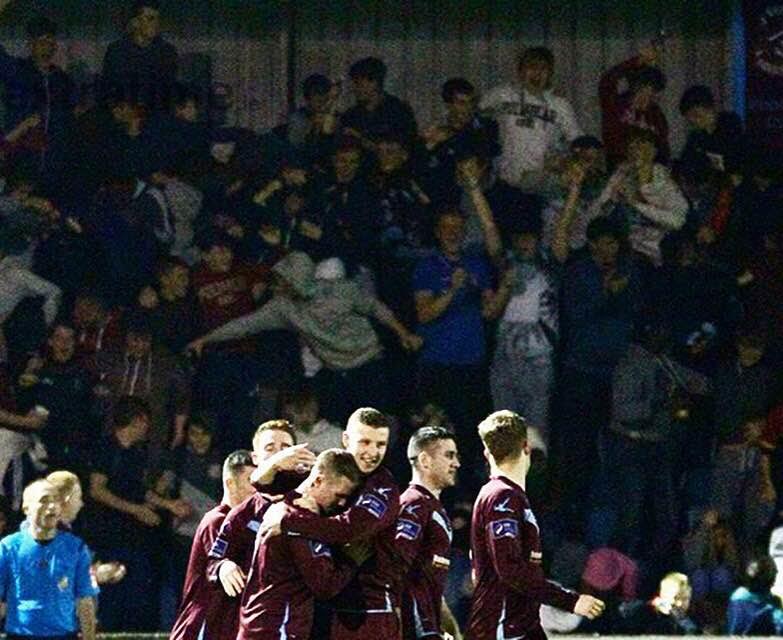 Cobh Ramblers Squad 2016: Paul Hunt, David Browne, Eoghan Daly, Charlie Fleming, Kevin Mulcahy, Ben O'Riordan, Adam O'Sullivan, James McSweeney, Cian Kingston, Chris McCarthy, James Furlong, Andy O'Connell, Ian Mylod, Anthony O'Donnell, Kyle McNamara, Graham McCarthy, Jason Abbott, David Curran, Shane O'Connor, Garry Comerford, Craig Donnelan, Darren Murphy, Evan Galvin, Cory Galvin, Scott McCarthy, Stephen Christopher, Eoin McGreevy, Jimmy Griffin, Matthew Whelan, Connor Ellis, Rob Lehane, Markus Gustavsson, Jonathan Creamer.
2016 Goalscorers:
| | |
| --- | --- |
| Shane O'Connor | 12 |
| Markus Gustavsson | 8 |
| Rob Lehane | 7 |
| Connor Ellis | 7 |
| Eoin McGreevy | 5 |
| Ian Mylod | 4 |
| Stephen Christopher | 3 |
| Matthew Whelan | 2 |
| Jonathan Creamer | 2 |
| Andy O'Connell | 1 |
| Charlie Fleming | 1 |
| Evan Galvin | 1 |
| Cian Kingston | 1 |
| Cory Galvin | 1 |
By Thomas Stafford