Our u17 side won the inaugral FAI U17 Shield on Tuesdsay night following a 1-0 victory over Bray Wanderers at the Carlisle Grounds.
With the game deadlocked at 0-0 after normal time, extra-time had to be played. A goal on 104 minutes from centre back James McSweeney proved to be the decider as the Rams held out for the win, despite fierce pressure from the hosts. It was a fantastic way for Ethan McCarthy's Young Rams to end the 2016 season in what was Ethan's first year at the club. His backroom staff of Lenny Walker and Colm Bermingham are also new to the club and the side have put in an outstanding effort this year.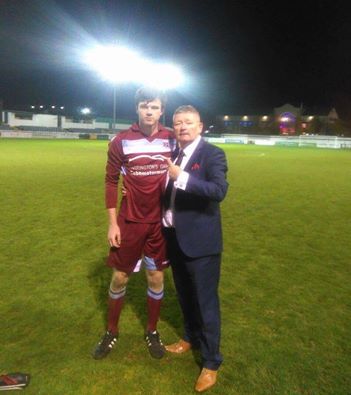 We would like to thank Harrington's Garage Cobh for sponsoring our u17 team this season, along with our u19's. Sending our underage sides all over the country can be an expensive business and their support is very helpful.
Cobh Ramblers: Christian Begley, Kajus Vitkevicus, Gordon Walker (C), James McSweeney, John Browne, Matthew Lamb. Eoin Davis, Rueben Henry, Stephen O'Leary, Peter Callanan, Ryan O'Regan.
Substitutes: Kyle Murphy, Alex Smith, Alex Connolly, Conor O'Leary, Ross Slevin, Daniel Ruddy.