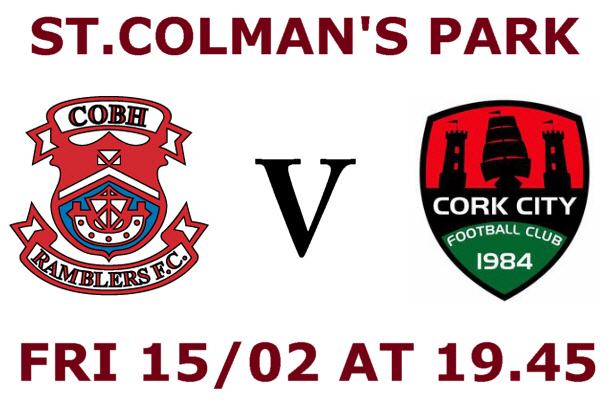 Ramblers take on Cork City at St.Colman's Park on Friday 15th February with a 7.45pm kick-off.
—————————————————————————————————————————————————-
Cobh Ramblers 1 – 1 Cork City
Near enough to 1000 footballing supporters from both sides turned up on a wet and very foggy Saturday night to watch an exciting friendly between Ramblers and Cork City. Following Tuesday's 3-2 victory over  Limerick, it was pretty evident that Ramblers were looking for the result to go their way with some fierce attacking football right from the outset and it's only fair to say that East Cork side should find themselves  bewildered at having to settle for a 1-1 draw against the City counterparts when a Denis Behan spot kick beat the Ramblers keeper Robert Birdsall to level the score.
Ramblers took the lead just after half time with a Mikey O'Shea strike which shot across City's netminder Burns leaving him no chance. Ramblers continued their first half constant attacking style of play from the  second half kick-off and it paid off with O'Shea's strike, however, City didn't sit back and Birdsall had to pull off some fine saves to keep the neighbours at bay. In the 69th minute City were awarded a harsh penalty  decision and Denis Behan had no trouble beating Birdsall to level the score.