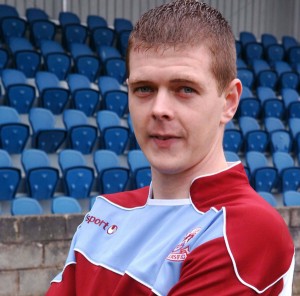 Ramblers had a sweet taste of what it's like to be back in the League of Ireland (proper) when two early second half goals from Davin O'Neill and a 93rd minute header from debutant Brian Fitzgerald secured the win for Ramblers in their preseason friendly against Limerick City at St.Colman's Park on Tuesday night. A crowd of between 250 to 300 turned out on a wet and dull night, to watch Dave Hill's side line out with ten new signings as they prepare for life in the Airtricity First Division.
Limerick found themselves in front after 25 minutes with a cracking 20 yarder from Alex Bossekota and the score line remaind like that until three minutes into the second half when Davin O'Neill's header left Limerick keeper Shane Cusack with no chance. O'Neill struck gold once again for Ramblers in the 61st minute, with Limerick equalising in the 75th.
To the delight of the home supporters, new signing from Avondale, Brian Fitzgerald climbed above all in the box in extra time to rocket home a header to send the visitors home with a 3-2 defeat.
Ramblers have Cork City firmly in their sights as the two sides meet in another friendly at St.Colmans Park on Friday 15th February with a kick-off time of 7.45pm.
Team: Robert Birdsall, Ian Long, Gary Collins, Brian Fitzgerald, John Meade, Alan O'Flynn, Michael O'Shea, Andrew Bhandakar, Martin Deady, Conor Meade, Davin O'Neill
Subs: Brendan Frahill, Bobb Donoghue, Roy Kenny, Johnathan Spillane, Llyod Spillane, Eoin O'Donovan, Dave Curran