Ahead of Friday night's Q&A with Roy Keane and Seamus McDonagh in the Clayton Silver Springs Hotel, we have been looking back on Roy's spell at the Rams during the 1989/90 season.
At that time, a FAS course existed in Dublin whereby one player from each of the 24 League of Ireland clubs would train as a professional during the week and play for their respective clubs at the weekend. Prior to the season commencing, Roy had signed for Cork City. They had two more young players signing the weekend after Roy and it appeared economical to put all three forms in the one envelope to Dublin. However they had offered their FAS place to Len Downey. Ramblers Youths team manager Eddie O'Rourke was quick off the mark and offered Roy the chance to take their one space. With his move to City not yet confirmed, he duly accepted and the rest as they say is history.
His Cobh senior debut came on August 13th in Buckley Park as the Rams went down 2-0 to Kilkenny City in the Opel League Cup. First team manager Liam McMahon gave Keane his League of Ireland First Division debut on the 5th November 1989 in a 2-1 victory over Bray Wanderers. After six months of training in Dublin, and commuting back to Cobh at the weekend, Keane developed into one of the best players on the FAS course.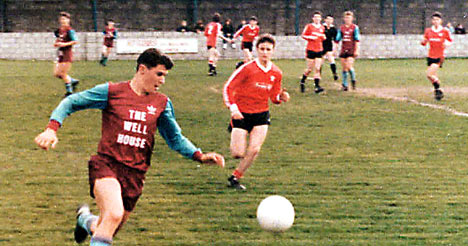 Over the season he would make 29 senior appearances as Cobh finished seventh in the league. His two goals came against St Francis and Finn Harps. At this time Roy was still eligible for the club's youth side. This saw him play two games on many a weekend. During an FAI Youth Cup match away to Belvedere, Keane impressed Nottingham Forest scouts who had been originally attending the game to watch another player. Ramblers lost 4-0 to the Dublin side, highlighting how well Roy must have played to impress the scouts.  He was offered a trial with Forest and was successful during his time there, leading to both clubs beginning business. Cobh had never previously entered into talks with an English side over a player. To counter this inexperience former Chelsea manager John Hollins was enlisted to take part in the talks. After just 14 months with Ramblers, Keane moved in the summer of 1990 and became one of the youngest professional footballers in the English First Division.