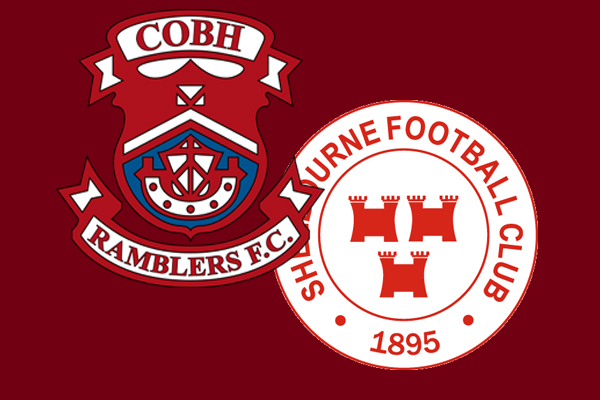 Cobh Ramblers go into
Saturday's
game with Shelbourne on the back of last weekend's superb 3-1 win away to Longford Town. It was Ramblers' first win of the season following the opening day draw with Wexford Youths at St Colman's Park, and boss Stephen Henderson was delighted with the result,
"The lads were fantastic, the back four, the middle three, the front three, Paul Hunt in goal, they were all brilliant. After the match I walked into the dressing room area and heard a row, I thought it might have been the Longford team but it was our lads, they were that disappointed at conceding a late goal! Which shows you the passion of this group of players."
Karl Caulfield was one of Henderson's signings over the close season, the midfielder arriving from Avondale United. Caulfield opened the scoring against Longford
on Saturday
night, and Henderson is delighted with how he's settling in.
"He was fantastic. He set us on the way with a cracking goal out of nowhere. He curled it in from 25 yards, and he deserved it, it capped off a cracking performance. Karl and Kaka (Christopher McCarthy) and Craig Donnellan were immense in the middle of the park."
Shelbourne by contrast go into the game hot on the heels of a 4-0 defeat to UCD, however Henderson is expecting a backlash from Owen Heary's side
on Saturday
afternoon.
"People were surprised that UCD beat them, but I wasn't, UCD have the pick of some of the best players in the country so they're always going to be a good side. The four nil scoreline is what I was surprised at, so Shelbourne are going to be looking for a reaction. But that's fine, as long as we do our jobs we'll be ok. Shelbourne are still definitely one of the favourites for the league title. It was a poor game they had last weekend, and they'll come down to St Colman's Park and try to rectify that. We look forward to that challenge. For us, I don't want to replicate the performance level from the Longford game. I want to go one better. We have to look at it and say, 'that's a fabulous performance, but how can we improve on it?' We're going to be a good side this year in a league full of good sides. We have set our standards, but what I want to know is can we improve on that week on week over the course of the season? We're not going to rest on our laurels, we still have work to do."
Ross Mann and Jason Abbott both missed the win over Longford due to illness, but are in contention to return to the team this weekend.
Ryan Hogan (back), Cian Kingston (hamstring) and Darren Murphy (ankle) will miss
Saturday's
game.
Matthew Whelan has returned from America and is available for selection.
Injuries : Ryan Hogan (back), Cian Kingston (hamstring), Darren Murphy (ankle)
Suspensions : None
Last Game : Longford Town 1-3 Cobh Ramblers (Caulfield, Mylod, McNamara)
League Form (last game first) : W D
2016 Results :
Cobh Ramblers 0-0 Shelbourne
27th August
, Shelbourne 2-0 Cobh Ramblers
1st July
, Cobh Ramblers 1-0 Shelbourne
23rd April
, Shelbourne 0-1 Cobh Ramblers 4th March.