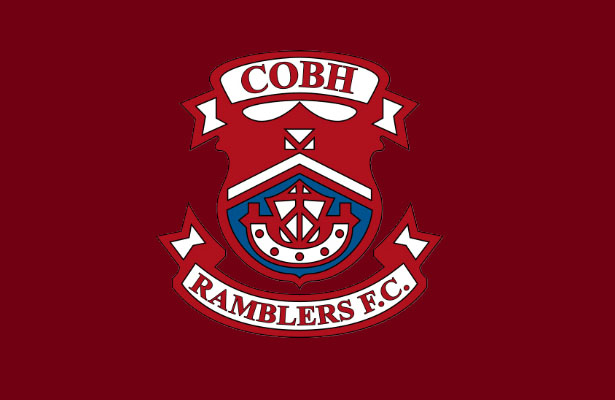 Cobh Ramblers Football Club is delighted to announce that Vice Chairman Bob Donovan has been elected interim club Chairman of Cobh Ramblers FC in accordance with the club constitution. Bob has a long association with the club over the years both as a player and in his position as vice chairman. Bob has made a considerable contribution to the club over the past fourteen months in his role as Vice Chairman, while also working tirelessly as Liaison officer with the U19's & U17's. 
Cobh Ramblers has made significant strides both on and off the pitch over the last fourteen months and the appointment of Bob will ensure that this great work continues. The board would also like to put on record once again it's sincere thanks to previous Chairman Eoin O'Sullivan for all the work he has done for the club and we wish him well in the future.  We would also like to thank Imelda O'Sullivan for her tireless work.
Following on from Bob's appointment as Chairman the following vacancies have also been filled.
Michael O'Donovan takes over the role as Vice Chairman. Michael has been club secretary since 2014 and previously held roles within the club from 2001 – 2007. Michael was also involved with the Cobh Ramblers supporters club from 2008 – date.
Ian Ryan takes up the role of Club Secretary. Ian joined the club in 2015 and will combine this role with his Media and PR functions.  Ian has been one of the most significant additions to the Cobh Ramblers committee.  His work in obtaining our media partnership with Red FM along with the setting of the Cobh Ramblers TRUST are just some of the major contributions he has brought to the Club.
Lesley Henderson will continue in her role as Club Treasurer having done tremendous work over the past 14 months. Lesley has played a key role in stabilising the clubs finances by ensuring the proper financial structures are in place. These financial structures are essential for the long term future of the club.
Shane Kavanagh will continue working closely with the football side as well as retaining his role as Licensing Officer.  Shane has been an integral part of Cobh Ramblers for many years and is steeped in the traditions of the Club.
Sue Malpass retains her position on the committee where her Trojan work on match days, particularly for the Cobh Ramblers Under 17s and 19s home games.  Sue also does great work preparing to welcome our match day sponsors whilst also looking after the Club Shop.
James O'Donovan will continue on the committee in his role as his liason position between the Club and the Official Supporters Club along with other activities including the Club Lotto.
John Hewitt remains on the committee working with FAS to ensure the upkeep of the ground and stadium along with volunteering work with our bingo and working in the Bar.
Denis McCarthy will also remain on the committee retaining his role as Match Day Event Controller and head of all security relative to Cobh Ramblers FC.
Willie Kane after a short sabbatical we are delighted has returned to his role as Commercial Manager.  Willie's tireless work in generating much needed funds to sustain Cobh Ramblers FC is a pivotal role within the Committee and we are delighted to see him back.
In addition to the restructuring of the committee we would also like to take this opportunity to thank the following people for their continued efforts and voluntary contributions that enables us to keep our great club moving forward under very trying circumstances.
Angela McCarthy – who is an employee with the Club she works predominantly on the administration and all financial matters.  It is also worth noting Angela puts a huge amount of voluntary hours into the Club and we thank her for that.
Ita Burns – who is the Bar Manager and has been for a long period of time.  Ita continues to be the heart beat of the Bar and we would also like to thank her for her contribution to the Clubs continued fight for survival by doing extra work on a voluntary basis.
Thomas Stafford / Mike Bardsley / Marc O'Driscoll
Our Media team play a vital role on a daily basis in keeping our supporters up to date with Match Reports / Social Media & Match Day Announcements / Match Day Posters & Press Releases and of course our Website and Match Programme. We would sincerely like to thank our team for their continued efforts.
Oonagh Hurley and Marian Davis – who has have worked in the Bar for a long period of time and have helped us as a committee in ensuring the smooth running of the Bar and we would like to take this opportunity to wish her continued speedy recovery after her recent operation and thank them for their continued efforts.
Ollie Geasley – one of the true gentlemen on the Island of Cobh.  Ollie continues to put tireless work into the pitch and the ground in general along with too many other duties J
Chris Keogh – who has been the kit man for many years and puts in an enormous amount of work organising all the gear for the three teams along with many other duties again too many to mention.  We at Cobh Ramblers want to extend or sincere gratitude to him for his continued work.
Yvonne Burke who is solely responsible for the running for our annual soccer camps three times a year.  Yvonne puts an enormous amount of work into this and we would like to express our gratitude along with the Louise Burke who helps out with these camps and in the Shop with Sue.
Marcia Fleming has been a breath of fresh air to the Club and Marcia is a permanent fixture behind the bar on a voluntary basis for which we cannot express our gratitude enough.
We would like to thank Manager Stephen Henderson and all the players and coaches from our Senior team to our 17's & 19's for their continued dedication, discipline and hard work in ensuring an exciting drive towards success on the pitch.
Finally we would also like to thank our Supporters, Trust Members and the Companies and Individuals who sponsor and support the club. This Support is invaluable to the Club in ensuring both sustainability and Growth.
Michael O'Donovan
Vice Chairman
On behalf of Cobh Ramblers FC