The League of Ireland First Division remains as exciting as ever and while the regular season concludes on Tuesday, five clubs are still vying for the latter three play-off positions, which will extend their season by a week at the very least.
At the top of the table Bray Wanderers and Drogheda are engaged in their own battle for the title and whichever side does miss out on the league crown will take the runners-up spot and with it the first play-off space.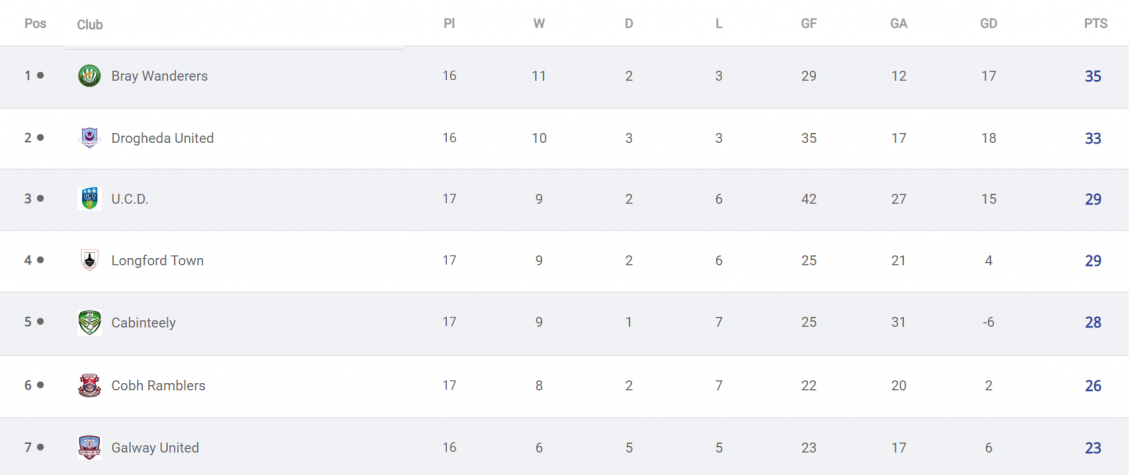 From third to seventh position it becomes all the more confusing, with UCD, Longford, Cabinteely, Cobh Ramblers and Galway vying for the three remaining play-off spots. This season the play-offs are one-legged affairs, whereby second place will host fifth place, and third place will host fourth place. The winners of these two ties will then take on each-other, with the victor battling it out against the Premier Division's ninth placed side for a spot in next season's top tier.
UCD currently sit third on 29 points and their goal difference of +15 means that the Students are all but assured a play-off spot. Their season concluder sees Galway visit Belfield in a crucial game. The Dubliners will secure third place, and home advantage in the play-offs, with three points. However, if UCD fail to win then either Longford or Cabinteely could pip them to third spot with victories in their respective games. UCD will still occupy one of the remaining play-off spots with either a draw or a defeat given their strong goal difference.
Longford also have a tally of 29 points, with a goal difference of +4, and occupy fourth place for now. They depart for Wexford on Tuesday knowing that a point is needed to secure a play-off spot. Defeat in Ferrycarrig Park would see 'De Town' slip out of the play-offs only if two of Cobh, Cabinteely and Galway were to win their remaining fixtures.
Cabinteely are the final side whose fate rests in their own hands, sitting in fifth spot for now on 28 points. Their goal difference of -6 is the worst of the play-off chasing sides and works against them in the hunt for promotion. They host Drogheda in their final game and if Cobh defeat Shamrock Rovers II in their final game then Cabo will miss out if they fail to pick up a win of their own. Galway can also pip the South Dublin men with two wins of their own, along with a home defeat in Stradbrook. It's win or bust for Cabinteely, unless neither Cobh nor Galway pick up maximum points, in which case a draw or even a defeat will secure fifth spot.
The side just outside the play-off spots at present is Cobh Ramblers, two points adrift of Cabo on 26 points. The Rams host Shamrock Rovers II in their final game at St Colman's Park on Tuesday night, and only a win will give the claret and blue side enough points to grab a play-off. This win will be enough unless Galway or Cabinteely were to win their final games and Longford avoided defeat in Wexford. A draw or defeat against Rovers would see Cobh finish outside the play-off positions regardless of other results.
In seventh position and still in the play-off chase is Galway United. The Tribesmen are on 23 points with a goal difference of +6, but have two games remaining which leaves them in with a chance to end the year on a points tally of 29. Those final two games see John Caulfield's men travel to leaders Bray on Saturday and host UCD on Tuesday. Six points from six is required and will only be enough if Cabinteely fail to defeat Drogheda or if Longford lose in Wexford.
The make-up of the four play-off sides is truly impossible to call and won't be known fully until late on Tuesday night. The further existence of an appeal by Wexford against a points deduction makes things even more unpredictable, as a successful appeal would reduce Cabinteely's points tally by two, to the benefit of Cobh and Galway. Make sure to keep an eye on every First Division result in the coming days, it'll more than likely be hugely important!
By Thomas Stafford
Follow us on Facebook, Instagram or Twitter to stay up to date. 
Click here to listen to the Cobh Rambling podcast or here to visit our online merch store. Check out past games and behind-the-scenes videos on our YouTube channel.