Academy
It was with great pleasure we were able to welcome our academy teams back training at the end of April. All four teams resumed training under the watchful eyes of their managers, coaches and Academy director Ivan Bevan. The teams had spent several months completing online sessions for strength & conditioning and tactics but there was nothing better than to see them out on the grass again. This year we have 4 teams competing in the underage League of Ireland. For the first time we have an U14 national league team which is managed by David O'Leary. Our U15s are again managed by John Forrest, our U17s are again managed by Darren Dennehy and our U19s are managed by Darren Murphy. All managers have an experienced team of coaches with them this year.
Due to the ongoing restrictions we were unable to hold trials, but we had an excellent response to our notification of interest with a very large increase in players wanting an opportunity to play LOI with Cobh Ramblers. The teams are all in the full swing of preseason now and are all training three days a week in Mayfield. The preparations for the season are going very well and all teams look in great condition for the season ahead. We wish them all the very best of luck with the season ahead.
Link to squad and player profiles.
Womens Team
After a long hiatus, 2021 will see the return of Women's Football at St Colman's Park. The Cobh Ramblers Womens team was previously a key part of the club, particularly in the 2000s under the guidance of the late Liam Amphlett among many others. An agreement with Springfield Ramblers will see their 2020 double winning senior woman's side enter the league.
Full details on this announcement are available here. They will be training in Pat O'Brien Park on Mondays and Wednesdays between 19:00 and 20:30, with matches returning from June 9th with a home fixture vs Lakewood. The team are always on the lookout for new players to join this exciting new era. Whether you have plenty of experience, or are new to the game, or are looking for a new challenge with a new club, we want to hear from you. Any interested players should contact Steve on 087 6593297.
Affiliations
As a club we should always value learning from other clubs, have an open mind and embrace change and challenge. In recent months we have identified clubs in which we feel we could learn from and build relationships with. We have targeted a number of clubs in both the UK, Spain and Germany in order to build the clubs profile but ultimately aim to improve a player pathway for our club and potentially have partnerships with clubs of a higher stature in big football nations.
As seen last week here on our Social media channels, we have confirmed our affiliation with Burnley FC for the next two years. Our thanks to Springfield Ramblers and chairman John Coughlan for providing the initial contact.
As you will have seen in the press release the main points of the agreement will be the following:
• Shared Business Practices
• Potential player Loans (At the discretion of CRFC)
• Potential Pre-Season friendlies
In the coming weeks we hope to finalise our second collaboration with another European Club who will be familiar to everyone. These talks have been on-going since end of year in 2020 and have progressed over the first half of this year. This collaboration will be different to our affiliation with Burnley in some respects, and further details will be released in the coming weeks.
What is clear from our experience in talks with both clubs is that Cobh Ramblers FC is highly respected due to our history, tradition and location being very attractive. It has been very rewarding to hear such positive feedback on many aspects such as; social media content, community engagement, famous ex-players and the scenery/location of our club. These affiliations are another sign of the growth of the club and ambition to improve year on year.
Player Pathway
We listened to our members feedback at the AGM and have been working hard in the background to improve our standing with local clubs and players. We are limited in what we can say at the moment as talks are progressing, but we have had some extremely positive conversations with Springfield Ramblers with regards to developing a player pathway for the kids in Cobh with the hope for us to have as many local players for our national league teams with the end result seeing those kids in the senior squad. The board are 100% committed to this pathway and once any agreement is made between both clubs we will be looking for the members approval to enter it into the clubs constitution to ensure no matter which board or management is in place in the future it stands. We hope to have
further information by the time the next newsletter is sent your way.
Sponsorship
To date, it has been a positive year from a sponsorship point of view for the club. With Covid-19 impacting all business and financial institutions our club has continued to develop and grow our sponsorship base. The club has welcomed approx. 10 new sponsors to the club and this shows the continuous growth we are reaching in comparison to 2020-year end. From the club's perspective we are consistently reviewing what we can give our sponsors as this needs to be a mutually beneficial relationship for both parties. This progress and growth has been down to do brilliant work of our
sponsorship sub-committee and we thank them all for their continued support and great efforts. We would like to thank every sponsor that has contributed to our club as without their support our challenge would be even greater.
To date, we currently have several sponsorship opportunities available for the coming year and we would encourage any members/season ticket holders to share any contacts they may have that can support in anyway possible the following events:
• Golf Classic Tee Box Sponsors
• Summer Camp – Main Sponsor
• New Club Van – Fuel Sponsor
Fundraising
The annual golf classic in aid of Cobh Ramblers FC will be held this year on Friday, 25th June 2021 in Cobh Golf Club. Mark your diaries for this prestigious event as tee times will be filling up fast. The tee sheet is now
open for a 3 ball team @ €120. May we take this opportunity to thank our event sponsors 'Ahern Brothers' for their support this year. Also a huge thank you to Cobh Golf Club for their continuous support of Cobh Ramblers FC and our fundraising initiatives over the past few years.
Should you wish to book your team – please contact James O'Donoghue on 0871348610 or Steve Mulcahy on 087 6593297. We are also looking for Tee Box Sponsors and if you would like to sponsor a tee box for €100 please
contact Marie in the office on office@cobhramblers.ie
Looking forward to seeing you tee off on the 25th June 2021 and hopefully you all can join us in our new courtyard that evening for the presentations of the prizes.
Membership and Season Ticket Update
Since the club has become a Co-Operative Society in 2019 our membership has grown year on year. Most recently our Membership in 2020 was at 68 members with 146 Season Ticket Holders. Not big numbers, but it's important to remember that when this new committee came into the club in 2019, to many people Cobh Ramblers were a club who had lost its connection with the town. It was up to us as a new board to win those fans back and get the Community back supporting the Rams again. In the midst of a global pandemic, you would think going into the 2021 season, our numbers would struggle to grow, however, Our Membership now stands at 107 members and growing. Season Ticket Numbers are the highest they've been since the 2008 season when we were in the Premier Division. Season Ticket Sales have now been suspended and our current season ticket numbers are at 251, so up 105 on last year. These numbers are fantastic to see and who knows if Covid had not hit when it did, they may well be far higher. Thank you to all who purchased a Season Ticket or Membership for 2021. Thank you for your support and Thank You for believing in what we are trying to achieve with this great football club.
Merchandise
We have been very busy with our merchandise this year with sales keeping above the rates of last season. We recently launched our away strip which is white with blue trimmings and finished off by the elegant Belvelly logo. Many thanks to Kieran Walsh of Cobh News for recording the launch video and finally thanks again to Jonathan Lee for his assistance with the video and giving us the use of the famous Belvelly Castle. As always please spread the word about our merchandise to friends and family and help spread the
Ramblers colours worldwide – recent sales have seen us send jerseys to Germany, Canada, Qatar and Singapore! We will be able to offer click and collect to supporters again so keep an eye on our site for those details.
Thank you to everyone who has supported us in the past, we greatly appreciate each sale! Our Club Shop can be accessed here: cobhramblersshop.com
Centenary Update
The club have now established a centenary committee in preparation for our historic 100th year in football. The initial kick off meeting was held on the 10th June 2020 with lots of promising ideas, individuals were identified to join the group and a thorough discussion was held on the history of our
great club. So far, a lot of our plans are being curtailed by Covid but we can reveal that a Centenary book detailing the history of Cobh Ramblers will be published hopefully some time towards the end of 2021 in time for the beginning of our Centenary celebrations. We also intend to have a permanent fixture installed within the ground in commemoration of the 100th year and it is our hope that fans can be involved with this in some way too. We will announce more details on this in the coming weeks and your support is most welcome.
Outside of this, we are planning lots of exciting events, we hope to get some former Rams back for a celebration game at some point in 2022. We also to intend to try and arrange a 'Centenary Match' against a big-name club. This is proving to be a difficult task with regards Covid but we will endeavour
to provide a top quality opposition to help us celebrate our Centenary. All going well, the series of events will end with a Dinner Dance, where we will celebrate all things Ramblers, it is our intention to induct individuals into the Cobh Ramblers Hall of Fame on the night and in addition we will also announce the Cobh Ramblers Team of the Century as voted for by the members!
We will hopefully begin to start announcing some of our exciting events over the coming months, so keep an eye on our social channels and keep an eye on your emails as you will all be the first to know!
Community
While currently the club is still restricted with regards what community engagement activities it can take part in due to Covid-19, in recent weeks alongside our colleagues Springfield Ramblers we were delighted to welcome some of Cobh's new residents from Syria and Lebanon, with a Cobh induction pack.
We as a club and community should always provide an open door and provide an environment for everyone. We plan on inviting our new Cobh residents to a game once restrictions permit and hopefully one of these young stars will play for our club in years to come.
"The Rambler" Courtyard Re-opening
For those of you that have seen our new courtyard we are now all systems go ahead of the outdoor reopening on June 7th. In recent weeks we have continued to modify and upgrade this area with new furniture & fittings. We are delighted to announce we will be launching our new coffee barista area within the courtyard ahead of re-opening. We will aim to be available on weekends and certain midweek mornings for that morning/lunchtime coffee and cake so feel free to spread the word that the new coffee place to be is "The Rambler Courtyard". We now have that ideal place for that morning pregame chat or morning after for the post-match analysis. Keep an eye out for images on our social media channels in the coming weeks.
We will also have live Euro 2021 games shown in the courtyard over the month of June on our new big screen, so if you're in the mood for a cold beverage or a warming coffee make sure to pop in enjoy the new surroundings. We would ask all members/season ticket holders to promote "The Rambler" Courtyard to their family and friends ahead of reopening. We feel the coffee/barista upgrade will attract a new market for families and no doubt we will have some goodies available for children also.
Grants
As you will be aware from our most recent AGM the club submitted a sports capital grant application in February with the aim of obtaining funding of up to €300,000. For context the maximum amount that any applicant can apply for is the full €300,000, however as we know from experience it can be very difficult to gain the full funding requested, however we feel we have a very strong application.
Some of the main items in which any potential funding would go towards are the following, u pgrade of floodlights to LED, removal of wall and installation of new pitch side boundary fence and pitch irrigation system. As part of this application we worked with a 3rd party organisation that helps with grant applications (2into3) and we must acknowledge their help and guidance. Currently we are now working also on two other Cork County Council grants, these will be aimed at modifying the exterior view of the ground on the west side of the ground. If successful, this work will
align with our centenary plans at the start of 2021.
While these applications can be labour intensive the club would like to pass on its sincere thanks to club member Mark Farrell for his continued support and help on these applications, Mark has always gone above and beyond to aid and manage these applications and we thank him for his continued efforts.
New Club Van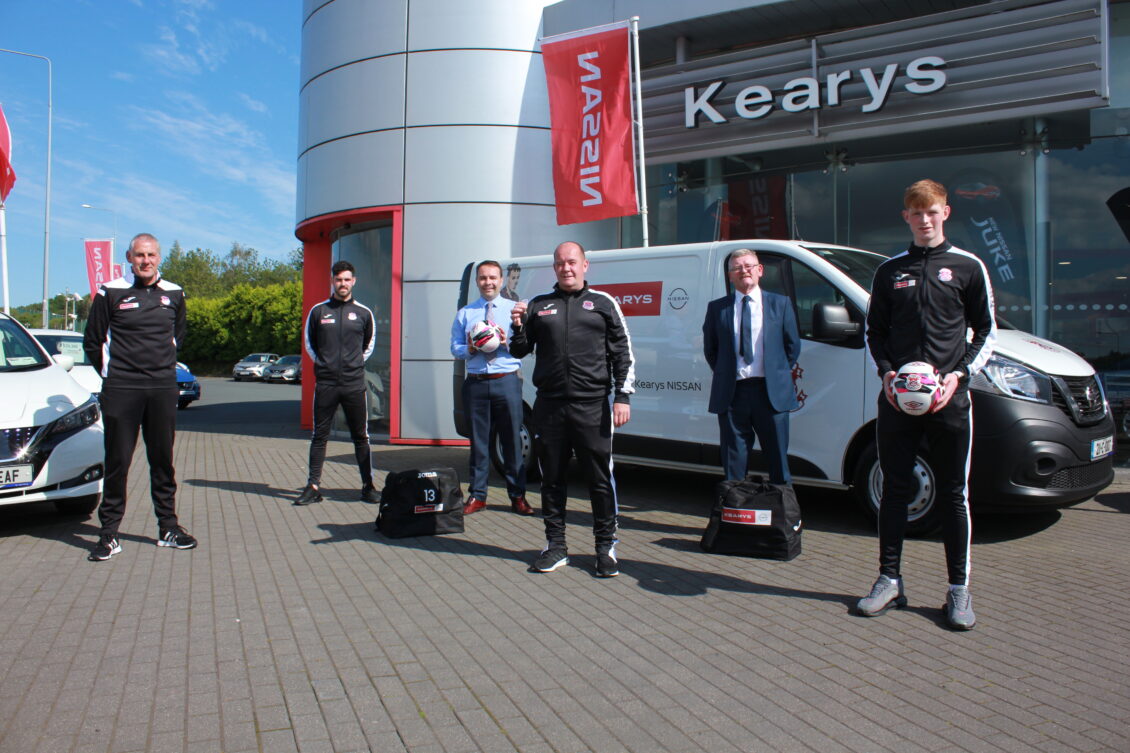 In recent weeks the club have negotiated a sponsorship deal with Kearys Nissan of Kinsale Road Cork. Kearys is the latest high-profile brand to associate and contribute to the club for the coming season. Kearys have kindly sponsored a club van for the 2021 season and in return Kearys will be our U17 team main sponsor and the Kearys logo will be located on our senior team's kit bags and tracksuit tops. This is another great benefit to the club as there can be multiple times in a year when the club would require a kit van. The main use for this van will be for training and matchday games to transport team equipment and kit. Kearys will also have offers during the year for members so keep an eye on your emails and the club will notify you all. The club would like to thank first team staff member Ken Hennessey for his help on this agreement.
The Round Up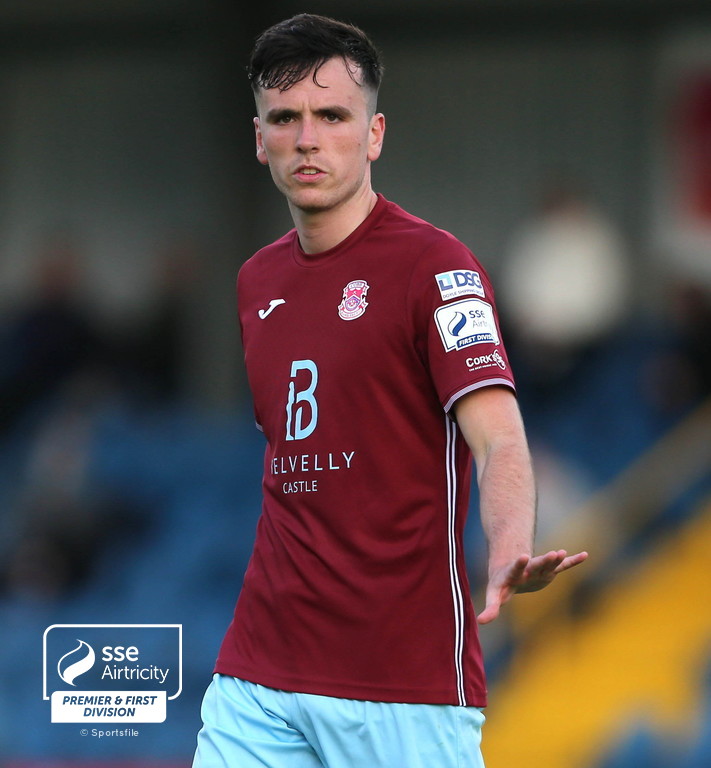 As highlighted earlier ideally, this newsletter would have been sent a few weeks ago, however as you can see we have been extremely busy on all aspects of the club. It is clear Cobh Ramblers FC is a club full of energy, enthusiasm, and passion, all of which make the club so special. We are satisfied with our growth and development on so many levels and truly believe that this club can continue to grow to new heights. In the coming months we have the Cobh 4 Football facility which will be completed, an asset for the people of Cobh for years to come, another aspect of the brilliant work being done in Cobh for football.
You our members are a vital constituent and key to our development. We ask that you stay with us on our journey together and contribute actively and positively where possible. While we may not be getting the rub of the green on the field we will continue to embrace change and stay focused on growth. As a club it's important that we are ambitious, that we dream, and ultimately believe in doing the best we can to have the most vibrant community-based club that we can provide for the people of Cobh. As a board we certainly believe that our club has even better days ahead, and
we look to the future with excitement and the evenings with you all back in St Colman's Park. Until then keep the faith and let's stay positive as it is clear this club is only going one way and that is UP.