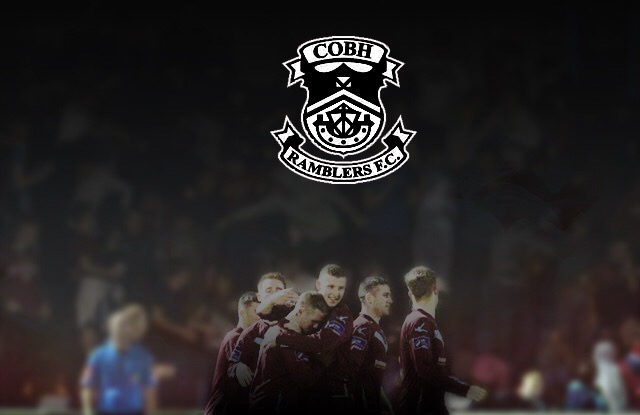 As the 2010s come to a conclusion, inevitable reviews of the decade become commonplace. The songs, movies, tv shows and topics that took over the 'teens' are discussed at length. For Cobh Ramblers the past ten years has been a rollercoaster spell, full of the twists and turns that only a football club can endure. It is only when you take a step back and look at where this Cork institution was back in 2010 that you acknowledge the vast progress to date in its true form. Thomas Stafford looks back on the decade that was for CRFC.
Having finished bottom of the 2009 A Championship Southern Division, optimism was low on the ground at St Colman's Park at the beginning of the decade. The country was in the midst of the recession, and Cobh was not exempt. Emigration of potential players was commonplace, and the A Championship did little to attract sponsors or supporters. Nevertheless, under the guidance of Dave Hill, a young Cobh side battled to a second place finish in the Division, behind UCD A. In early November a two-legged play-off with Salthill Devon took place to decide who would compete in the 2011 First Division. It was the Galway side who ran out 3-1 victors but the interest in the home leg especially brought hope that the tide was turning in Ramblers' favour. It was a season that saw club favourites such as John Meade and Mikey O'Shea return, while a talented crop of young Cobh players came through together, Shane Geasley, Gary Collins and Peter Nolan among them.
The 2011 season was less impressive as the club finished 6th out of 8 sides. The returning Conor Meade came second in the league scorers' chart with ten goals but finishing behind the other two first teams in the division, Carlow and Tralee, was a disappointment.  This proved to be the fourth and final season of the ill-faited A Championship as an ever-changing football landscape presented a new U19 League of Ireland in 2012.
The majority of the Ramblers U19 side for the new 2011/12 season would come from the hugely successful Springfield Ramblers side who had won the 2011 U16 National Cup, a first for a Cobh club. Jason Abbott, Shane Hallahan and Brendán Frahill were among those tasked with key roles for the season, under the guidance of Niall Abbott. A cat-and-mouse battle with Limerick saw the two sides push each-other until the end before Cobh claimed the title on the last day, beating Tralee 4-1. With this came promotion to the Elite Division for the 2012/13 campaign.
Dave Hill took charge of that year's side and with the majority of the title winning side still underage, changes were kept to a minimum. However some new acquisitions were added and it was a season where Sean O'Mahony, Keith O'Flynn and Kynan Rocks would commence their Ramblers careers. The jump to the elite division was noticeable but finishing 10th of 12 was impressive in an U19 league that saw trips to Finn Harps, Drogheda and almost fortnightly games against the ever-strong Dublin outfits.
As 2012 came to a close, rumours began to swell that a return to the LOI proper was on the horizon for 2013. Sure enough that proved to be the case and a 5-0 win on the opening night of the season against Wexford announced Cobh's return to senior football. The squad was a medley of U19 stars, past players and new faces. Club legends Davin O'Neill, Mikey O'Shea, Conor Meade and John Meade played out a final season for their hometown LOI club, while new additions Robert Birdsall and Brian Fitzgerald gained cult status. A 7th placed finish may not have looked ground-breaking but Cobh were back in the League of Ireland ranks and few could ask for more.
With Dave Hill committed to the senior side, Martin Cambridge made a return to the Great Island to take charge of the U19s for 2013/14. Bringing in the likes of Kaka McCarthy, George Gill, Jonathan Creamer and Rob Lynch, he had an impressive squad at his disposal and this culminated in winning the Enda McGuill Cup in March 2014. Local captain Keith O'Flynn lead his side to a 3-2 win over Drogheda on a memorable night in St Colman's Park.
Dave Hill departed the club as senior manager just prior to the 2014 campaign and Martin Cambridge made the step-up as senior boss. Martin Deady was made club captain while Rob Waters, Garry Comerford and Alan O'Flynn became key players. It wasn't the best of seasons but the visit of Derry City to St Colman's in the FAI Cup was a momentous occasion. Stephen Bermingham took charge of the U19 side and brought through Adam O'Sullivan, Aaron Drinan and Stephen Christopher among others.
A strong squad was assembled for 2015 as Martin Cambridge had the benefit of a full pre-season to prepare his charges. The signings of Shane O'Connor, Kevin Mulcahy and Darren Murphy caught the eye but merely weeks in to the season Martin Cambridge departed. Stephen Henderson returned to the club as manager and a 6th place finish ensued, helped by solid mid-season additions in the form of Jason Abbott and James Furlong, as well as the goal-scoring of Stephen Kenny. The club entered a side in the first U17 League of Ireland under the guidance of Len Hackett, with Matt Lamb, Alex Smith and Dylan Wentz among those to impress. Former Ram Anthony Kenneally took charge of the U19 side that season as Charlie Fleming and Ben O'Riordan stood out.
If the optimism in 2015 was cautious, the positivity in 2016 was simply abundant. The core of the 2015 squad was retained while enforcements came in the form of Paul Hunt, Ian Mylod, Rob Lehane, Eoin McGreevy and Markus Gustavsson. A 5th ever Munster Senior Cup title arrived in May thanks to a 2-1 win over Rockmount in Turners Cross. Andy O'Connell and Jonathan Creamer grabbing a goal each. Strong performances in the league and cup saw us reach the FAI Cup quarter-finals, losing 3-2 at St Pat's. Connor Ellis and Craig Donnelan joined that summer to bolster a play-off push, while a young striker by the name of Matthew Whelan made headlines. Fulham FC were entertained in a noteworthy friendly. Five wins on the bounce to finish the season secured a play-off but Drogheda broke Ramblers' hearts, winning 3-2 over two legs. Nevertheless, this was Cobh's best season since returning to the League by quite the distance. Ethan McCarthy took over the U17 side and lead a squad that included James McSweeney, Stephen O'Leary and Gordon Walker to the National Shield title in Bray. Len Hackett took charge of the U19 side as David Hurley and Matthew Whelan were among those to impress.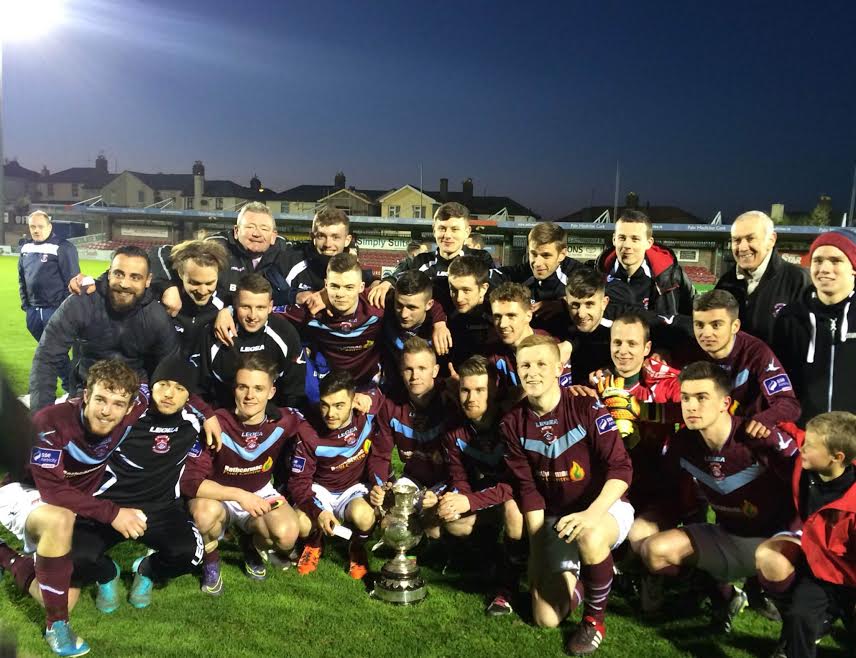 On the back of 2016, the club was well on the up and was now firmly re-established as a League of Ireland entity. For 2017 Cian Coleman, Karl Caulfield and John Kavanagh bolstered a strong and youthful squad. The Rams pushed a much-fancied Waterford side right to the final day that season, with a league runner-up medal the hard-earned reward.  A summer friendly with Norwich brought Wes Hoolahan and co. to Cobh. Damien Rowe took charge of the U17 side for the season as Cameron Harlson, Jaze Kabia and Connor O'Leary stood out. Ethan McCarthy stepped up to the U19 role, assembling a strong squad with the backbone of the previous year's U17s at his disposal. Peter Callanan and Cian Leonard were two of many to progress to senior football and the side reached the last four of the Enda McGuill Cup for the first time since 2014. U15 League of Ireland football was launched for the first time with Darran O'Shea taking charge.
There is only one thing the 2018 season can be remembered for and that is the EA Sports Cup run. Chris Hull's strike in a 1-0 semi-final win over Dundalk will go down in folklore at St Colman's Park. The Brandywell was the venue of the decider as Derry City ran out 3-1 winners in Ramblers' first ever national final. Limerick, Wexford and Longford had been defeated along the way. A new look squad finished eighth in the league, with Adam Mylod, Pierce Phillips and Anthony McAleavy establishing themselves as first team players. The club took on Championship side Preston North End in a summer friendly. Ivan Bevan took charge of the U19 side, bringing Michael O'Rourke and Stephen O'Connor through among others. Kieran O'Connell's U17 side drew many plaudits, with Luke Kennedy, David Bosnjak and Cormac Buckley among those to announce themselves. Kevin Ronayne lead our U15 outfit for their second season, as Sam O'Driscoll and Tiernan O'Brien were key figures.
As 2018 became a memory, the final season of the decade saw an abundance of transition. Stephen Henderson departed as first team manager midway through the campaign, with his assistant Stuart Ashton taking charge, replicating a role he held in the mid-1990s, with Dec Coleman and James Claffey now at his side. David Hurley, Charlie Lyons and Kevin Taylor shone in claret and blue, with home wins over champions Shelbourne particular highlights. Familiar foes Dundalk were drawn in the FAI Cup and they left Cobh with a 1-0 win. Ivan Bevan remained at the helm for the U19s, with Mikey Foley, Andrew Cronin and Jamie O'Sullivan all progressing to senior football. The penalty shootout defeat of Cork City in an Enda McGuill Cup tie at St Colman's was a sure high point. Marc O'Donovan Wyatt put together a strong U17 side, Tom Noonan and Dylan O'Halloran were two that stood out. Shane Power and Jonas Kerr took charge of the U15 side with stalwart Lucas Keating remaining alongside. Cobh also had a side entered in the first ever U13 League of Ireland, in partnership with Carrigaline United. Eric Higgins managed the Young Rams as Oisin Noonan and Louka Mohan impressed.
10 years is a long time for any organisation. For Cobh Ramblers that time-frame has shown remarkable transition. From a club with one sole team competing in a reserve division to a League of Ireland stalwart, operating five national league sides. An institution with a healthy social club off the pitch, a strong, dynamic brand and loaded with forward-looking personnel. The next decade offers immeasurable upside potential. The growth of women's and schoolgirl's football is an avenue that deserves exploration, facility development in partnership with Cobh 4 Football and the town's other clubs is on the horizon, a rejuvenated and buoyant League of Ireland is gaining a rightful role in Irish football. Cobh Ramblers will play its part in the 2020s, will you?