Cobh Ramblers FC express our deepest sympathies to the family and friends of our former captain, committee member and chairman John O'Rourke following his recent passing.
As a player he led from the back in the dutiful occupation of the centre-back position, on retirement he led from the front in the hazardous occupation as Chairman of Cobh Ramblers from 1987 to 1999.
One of a family of eight – six boys and two girls – his father, Derry, was an integral part of the history of Cobh Ramblers, it was indeed apt that the moulding of a successor to his father's work had origins in the companionship they shared when attending games at St. Colman's Park. John was about 10 when the ritual of a Sunday afternoon began. The Intermediate Cup S-F of 1958/59, a losing one to Albert Rovers on a 4-5 score line, captivated a slightly older John, that as a player he might not be able to imitate that certain magic that they seemed to possess, but that he could exhibit the same pride in donning the Claret & Blue jersey that they displayed.
The birth of Springfield as a club had yet to take place, and at the behest of Mick "Harmer" Walsh and Pat "Ben" Higgins, both playing Junior soccer with Midleton, John O'Rourke in the company of Eddie Donovan and Deccie Murray enlisted to play Youths football with Midleton. The man in charge was Dinny Mulcahy, an uncle of Colman Mulcahy. It was inevitable
upon the foundation of Springfield that they would return, and with Moss Cummins at the helm as manager, and John as captain in the company of team mates such as Victor Casey, John Meade, Eddie Donovan, Alan McCormack, Tommy Stockdale, Paddy Murphy, Teddy Lambe and John Nash, that they would subscribe to the first ever trophy won under the auspicious of Springfield – the Shield.
Older players at Cobh Ramblers needed replacing and in line with that old adage; that if you were good enough, you were old enough, John O'Rourke at 17 was given his Cobh Ramblers debut at Flower Lodge against Albert Rovers in 1960. Michael O'Connor, Bertie O'Donoghue and Dermot Kilty were others to graduate. Cobh Ramblers were a club in transition and though the likes of Patsy Dorgan, Tony O'Brien, Charlie and Jimmy Mahony were handed the reins of management, it changed little, that was until Liam
McMahon retired from playing to concentrate fully in giving his time and talent to coaching. Overnight an Amateur club adopted a professional attitude and the reward was a first MSL title in 15 seasons in
1971/72, led by captain John O'Rourke.
John was the type of player you wanted alongside you going into battle, always epitomising the traditional centre-back values of strength, courage and determination. You fought for the jersey on your back and all that it represented. Old glories were now restored to Cobh Ramblers, but it was not in the winning or lifting of trophies that would subscribe for John
O'Rourke the greatest day in his playing time, but the once off FAI Cup victory over Drogheda in 1975. I know that is the day he would like to dedicate in his memory, a whole playing career rolled into one day, not least for the kiss planted on his cheek at the end of the game by Nicky Reilly and a lifetime of support dedicated to Cobh Ramblers. It was pure emotion and more.
Injury at first curtailed and ultimately forced John to retire in 1977. The vocation to Cobh Ramblers would continue and he first dabbled in management , and then on to committee level, and a decision reached that was probably at variance with the very ethos of the club and that of his father, who passed from this life in the same year that Cobh Ramblers joined the LOI ranks, that of 1985. Playing ambition gave way to personal ambition and John O'Rourke was installed as chairman of Cobh Ramblers in 1987. Two promotions punctuated his time in the hot seat and the constant pressure of trying to finance and balance such a project as LOI soccer. It was never easy. That is where the comfort of a good wife is hugely important, and the late Peggy was all that and more to John, with added support from a family of 5 boys and 2 girls, Angela and Claire. Niall, John, Brian and Ian, like their father all donned the Claret & Blue jersey, while Derry served on the management committee.
John, on joining Shelbourne, went on to win two FAI Cup winning medals, and on his premature retirement because of injury he was installed as manager of Cobh Ramblers. The torch of the O'Rourke family name and
attachment to Cobh Ramblers has in more recent times been carried by his grandsons Michael and Stuart O'Rourke. A more recent Hall of Fame recipient on behalf of Springfield, John O'Rourke was always good company, and his party piece and rendition of 'My Way' was always much anticipated and forever a highlight of any good social or club gathering.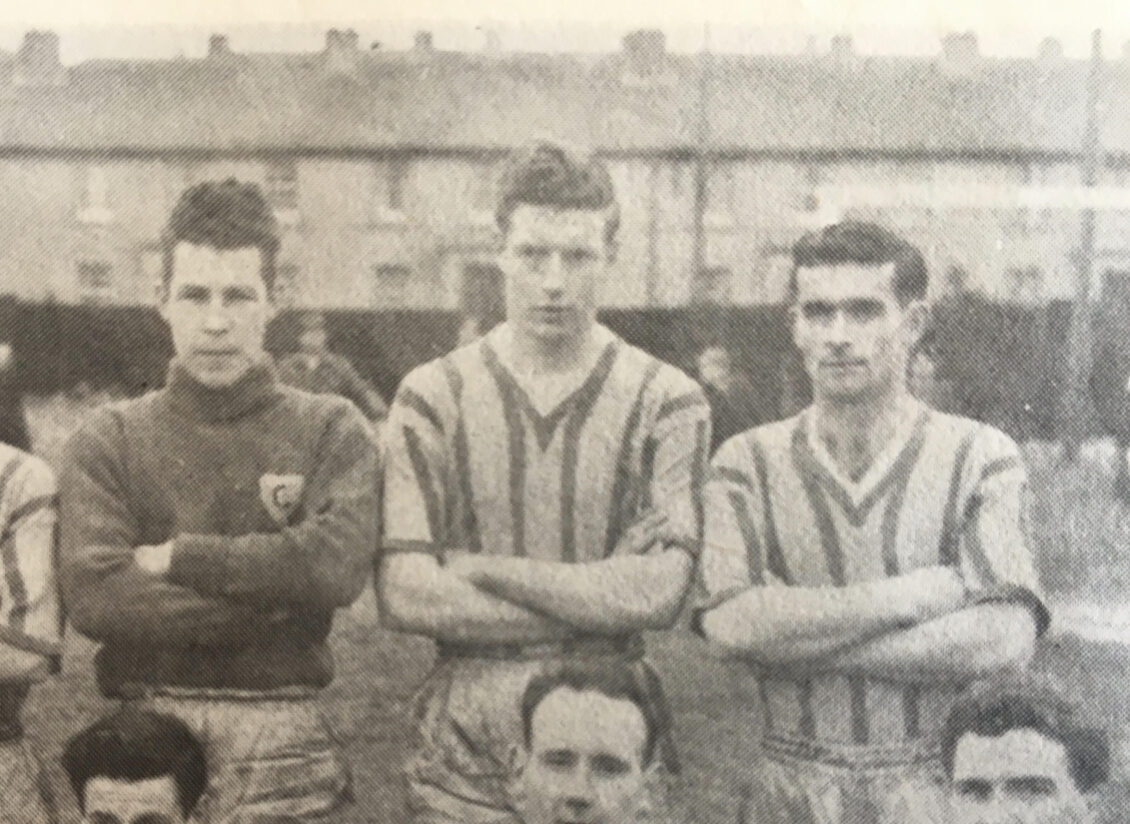 Cobh Ramblers extend our deepest condolences to the immediate and extended O'Rourke family members, as we mourn and pass yet another Cobh Ramblers legend on to the playing fields of heaven.
Thank you to Michael Geasley for this tribute to our late friend.