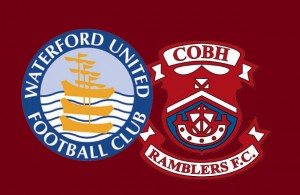 Waterford came out victors in this Munster Derby, thereby keeping in touch with the league leaders. A solitary goal from ex-Ram Conor Meade, gave the Blues all three points.
It wasn't the liveliest of games at first. Waterford looked the better side early on. The excellent RSC pitch, allowed for nice passing but neither team could create chances of note. The first chance fell to the home side. Conor Meade made a great run into the box, beating several players. He unselfishly passed across but no-one could stab it home. Ramblers keeper Shane Hallahan made a number of key saves to keep his side in it. Dylan Mernagh played in a good cross to find Vinny Sullivan, but the ex-Cork City man shot straight at Hallahan. Even though Waterford dominated possession, the Rams back four especially Craig Burns and Brian Fitzgerald coped well. The opener came on 41 minutes. Paddy Barrett found Meade and the Cobh local produced an excellent finish to the delight of the home supporters. It had been coming and United went in deservedly ahead at the break.
Waterford had the first chance of the half. Sullivan had a glorious chance but he shot wide from close range. Cobh vastly improved this half and James Carson and Davin O'Neill both had efforts but Blues keeper Craig Hyland easily saved. Cobh pushed for the equaliser and Waterford looked to be on the edge. Encouraged on by the away supporters, the Rams almost levelled. Martin Deady's corner found Brian Fitzgerald but his effort somehow failed to go in. The game came to an end soon after.
A real derby game, where everyone gave 100%. Waterford's superior squad showed in the end but Ramblers can be proud of a valiant effort.  A good win for the Blues, which sees them just two points behind leaders Athlone town. Meanwhile, Cobh's search for an away win goes on. Next week sees the start of the last set of fixtures. Cobh are back in the South-East as they travel to Wexford Youths. Waterford make the long trip to Finn Harps, as their promotion quest continues.
Waterford United: Craig Hyland, Conor Whittle, Dylan Mernagh, Gavin Kavanagh, Paddy Barrett, Peter Higgins (Francis Rockett), Marco Chindea, Kevin O'Connor, Phillip Drohan, Conor Meade (Ben Ryan , Vinny Sullivan (Danny Furlong)
Cobh Ramblers: Shane Hallahan, Brendan Frahill (Ron Stanton 78), Brian Fitzgerald, Craig Burns, John Meade, Rob Waters (James Carson 59), Shane Barrett (Graham McCarthy 68), Roy Kenny, Martin Deady, Kynan Rocks, Davin O'Neill
Report: Thomas Stafford