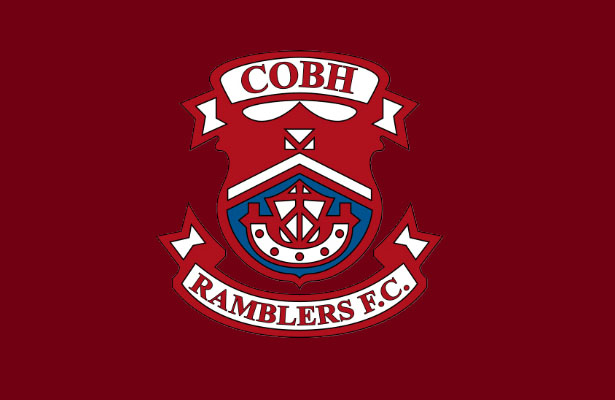 Cobh Ramblers secured a first Munster title in thirty three years on Tuesday night as goals from Jonathan Creamer and Andy O'Connell completed a remarkable comeback win. Rockmount's James Carson had put his side in front early in the first half but two late Cobh goals ensured that the prestigious trophy made a long-awaited return to the Great Island.
Stephen Henderson made three change to the side that beat Shelbourne on Saturday night as  Andy O'Connell, Charlie Fleming and Stephen Christopher replaced Markus Gustavsson, Graham McCarthy and Cory Galvin. There was a welcome sight amongst the replacements as Jonathan Creamer and David Browne both returned from injury.
With a healthy crowd in attendance at Turners Cross, the game kicked-off on what was a dry but cold night. Ramblers attained dominance from the offset and Chris McCarthy wasn't far off when his 20 yard shot blasted narrowly wide of Brendan O'Connell's post. At the other end, former Longford goalkeeper Paul Hunt was called into action early on, saving well from Jamie Murphy's free-kick. Cobh's next chance fell to Andy O'Connell but the ex-Galway man headed wide from Ian Mylod's cross. Somewhat against the run of play, Rockmount took the lead after 19 minutes. A corner from the right was whipped into the box and former Cobh player James Carson was on hand to finish at the back post. This was the catalyst as Rockmount gained confidence and entered the game more. Minutes later, Hunt was forced to make a great low save from Alan O'Connor and Ramblers were lucky not to be two down. Cobh looked rattled at this stage and Billy Cronin's outfit took control of the tie. Vincent Lonergan and Christopher Achigbe impressed as Rockmount pressed for a second. Corner after corner arrived but Cobh cleared their lines each time and managed to keep the score-line 1-0 at the break.
The second half commenced the same way that the first half finished with Rockmount dominating. Cobh couldn't seem to get a foothold in the tie despite the best efforts of Charlie Fleming and Shane O'Connor. With his side in a lull, Henderson introduced Jonathan Creamer from the bench. It was his first game in almost a year following a cruciate ligament injury and his arrival sparked Cobh into light. Young midfielder Stephen Christopher shot inches over from range. The game's real turning point then came on 78 minutes. The impressive Eoin McGreevy did well to control a long ball before firing from 18 yards. Brendan O'Connell parried the strong effort into the air but as the ball agonisingly lingered, Jonathan Creamer positioned himself perfectly to tap home at the back post once the ball arrived back to earth. A goal on his return from injury against his former club. It was written in the stars. The Ramblers faithful were in full voice at this stage and the chants of old made a welcome return. Rockmount were shell-shocked and it was all Cobh now. Substitute Cory Galvin ran through on goal but Ken Hoey showed all his experience in getting back to cover just as the former Ipswich man  looked set to shoot. Only one side looked like scoring now and it almost arrived when Jason Abbott pinged the post from just outside the box. The inevitable winner came five minutes from time. Andy O'Connell looked void of options when he had the ball on the left wing. He had other ideas however and went on a magnificent run of his own into the Rockmount area. Holding off two defenders, his shot from a tight angle sneaked past O'Connell, to the absolute delight of the Ramblers supporters. Rockmount didn't give up to their credit and pushed for the equaliser right until the end. Cobh stood strong however and held on for the memorable win.
The win was Ramblers' fifth ever Munster Cup title, following in the footsteps of the 1925, 1944, 1979 and 1983 sides. Stand-in captain Shane O'Connor lifted the trophy on the night and it was a real indication of how far this club has come since living on the brink of existence less than a year ago. It will be long-remembered amongst those in attendance and this young side will be eager to add to their trophy cabinet as soon as possible. It's now back to league matters and next up for Cobh is an away trip to Drogheda on Friday night.
Cobh Ramblers: Paul Hunt, Charlie Fleming, Christopher McCarthy, Cian Kingston, Ian Mylod, Jason Abbott, Evan Galvin (Cory Galvin 79), Shane O'Connor, Stephen Christopher (Jonathan Creamer 67), Eoin McGreevy, Andy O'Connell; David Curran, Graham McCarthy, David Browne, Ben O'Riordan, Markus Gustavsson
Rockmount: Brendan O'Connell, Gearoid O'Leary, Ken Hoey, James Carson, Christopher Achigbe, Daniel Duggan, Cian O'Driscoll, Daniel Aherne, Jamie Murphy, Vincent Lonergan, Alan O'Connor; Christopher Byrne, Edward Kenny, Steven Montgomery, John Gaffney, Edwin Buckley, David Aherne, Darren Mannix
Report by Thomas Stafford