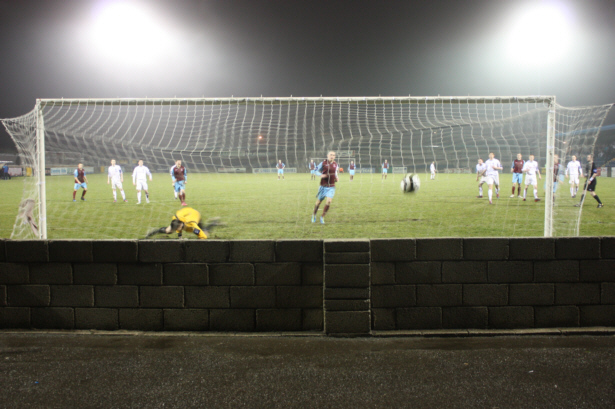 8 goals, 4 penalties, 3 red cards and 2 goal keepers sent off. Without a doubt, this was the craziest game I was ever at. Mervue headed into the game with the only remaining unbeaten run in the league. Ramblers meanwhile went into the game on the back of a 1-1 draw against the other Galway outfit, Salthill Devon. There was one change from the Ramblers side that drew with Salthill. Brendan Frahill replaced Adam Thompson in defence. This was the first ever meeting between the sides.
Within 4 minutes Mervue had opened the scoring. Ryan Manning rounded Ramblers keeper Robert Birdsall and slotted home from close range. Ramblers though did not let their heads drop and created numerous chances. On 27 minutes the sides were level. A Martin Deady cross found Conor Meade in the box and he produced a fantastic volley from inside the area, to the delight of the home fans. Rams took the lead just 3 minutes later when Davin O'Neill scored a volley of his own from another cross by the in-form Deady. Ramblers headed in at the break 2-1 up after an entertaining half, but who was to know what was in store second half.
Mervue scored within 3 minutes of the restart. A blocked free kick fell to Marc Ludden who scored a magnificent goal from outside the box. Mervue had the first penalty of the night on 53 minutes. Rams keeper Robert Birdsall was adjudged to have taken down a Mervue player. Ryan Manning attempted to add to his earlier goal but it was wonderfully saved by Birdsall. The Galway side though, took the lead a minute later when Jason Molloy's cross, with help from a freak gust of wind, flew over the stranded Birdsall and into the back of the net. It was 3-2 at this stage and once again Ramblers found themselves behind. They still didn't give up and won their first penalty on 66 minutes. Mervue centre back, Marc Ludden was sent off for denying Conor Meade a clear goal scoring opportunity.  Meade duly obliged with the spot kick for his second of
the night. On 78 minutes Rams received their second penalty of the night. Goalkeeper Conor Gleeson was sent off for taking down Deady who was through on goal. Substitute keeper Mike Elwood came on for the remainder of the game. Dub stepped up again to score his hat-trick. It got even worse for Mervue, as sub-keeper Elwood was sent packing for denying Meade another goal-scoring chance. Unbelievably Mervue were down to 8 men. The in-form striker dusted himself down and stuck it away for his fourth of the night.
A truly unbelievable game finally came to an end. There is no doubt that visitors to St. Colman's park got their money's worth tonight. There have been 20 goals in the 3 home games so far this season. It is clear that if you're looking for entertainment, Ramblers is the place to be this year. Cobh have moved up to 5th in the table on 8 points, while Mervue sit in second on 9 points.
Ramblers' next game is the short trip to Waterford on the 19th April. Their next home game is May 4th as Finn Harps make the long journey down south.
Cobh Ramblers: Robert Birdsall; Brendan Frahill, Gary Collins, Brian Fitzgerald, John Meade; Bobby Donoghue (Jonathan Spillane), James Carson, Martin Deady, Michael O'Shea; Conor Meade (Kynan Rocks 88), Davin O'Neill.
Subs not used: Alan O'Flynn, Roy Kenny, Ian Long, Keith O'Flynn, Shane Hallahan (GK).
Mervue United: Connor Gleeson; Paul Sinnott, Michael McSweeney, Stephen Walsh, Marc Ludden; Tom King (Capt) Noel Varley, Gary Curran (Gary Kelly 88), Jason Molloy; Brendan Lavelle (Mike Elwood 75), Ryan Manning.
Subs not used: Alex Lee, Dillon Murphy, Michael James, Joe Woods, Gary Shanahan.
Booked: Sinnott.
Sent Off: Ludden (66), Gleeson (75), Elwood (86).
Referee: Simon Rogers (Dublin).
Attendance: Not Available.